In the heart of the Arabian nights
Take a seat in our palace and live some unique moments around our show transporting you into the history of the country, highlighting the culture that make it up.
A unique attraction
Immerse yourself in the history of Morocco and travel to the heart of its culture. The experience is meant to be unforgettable, and the magic happens as soon as you enter our domain. From the welcome of the men in traditional blue outfit carrying a torch, through the visit of the caves of Alibaba, to the show of the gnaouas and belly dancers – without forgetting the acrobats! – you will never stop vibrating to the rhythm of the Arabian Nights, until the final blow of our riders during the famous tbourida.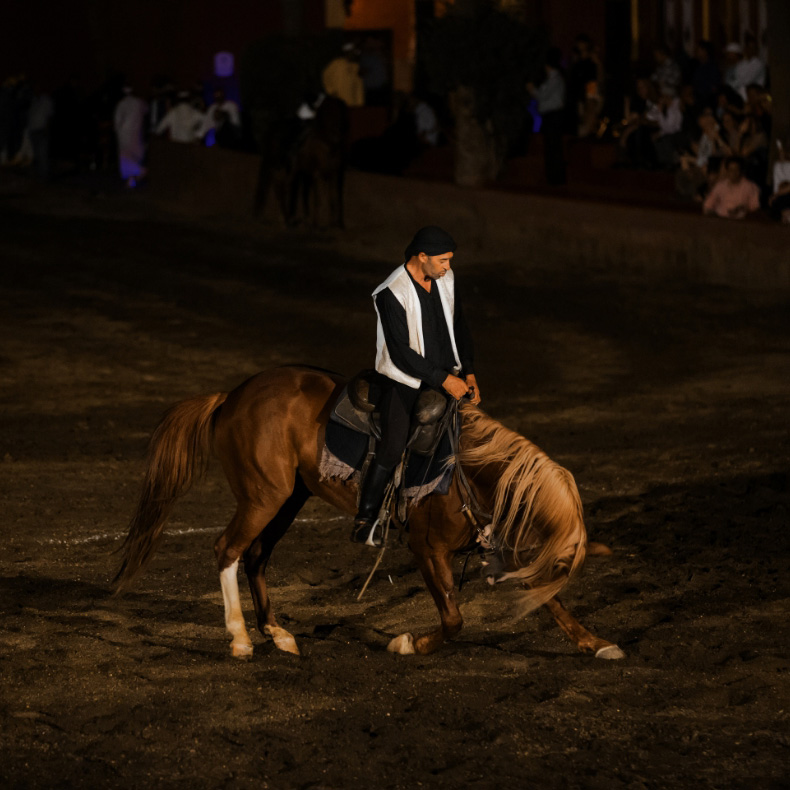 Gastronomic know-how
At Chez Ali, the codes of Moroccan cuisine are at the heart of our know-how. Our cuisine is for sharing, which can be enjoyed in a setting inspired by nomadic bivouacs. The ancestral culinary art, worthy of the greatest traditional receptions, as well as the art of table and service are strictly respected in order to offer you an evening as authentic as possible. Through our different menus, you can choose in advance your desired experience.
Fantasia
Show
Belly dancers

Traditional food